Speedway Motorsports Magazine Editor-in-Chief, John R. Andres, began his photographic career as a Detroit motorsports journalist over forty years ago, providing images and articles to the midwest automotive press. Since that time,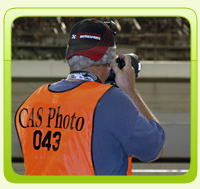 he has continued to cover races and photograph celebrities, traveling back and forth across the country to attend INDYCAR Series and NASCAR events. John Andres is a Professional Member of the American Auto Racing Writers and Broadcasters Association, the National Press Photographers Association, General Member of the American Society of Media Photographers and the Professional Photographers of America.
SMM has been fortunate to put together a group of dedicated individuals whose combined talents make Speedway Motorsports Magazine a relevant and comprehensive publication, focusing upon the world of automotive competition.